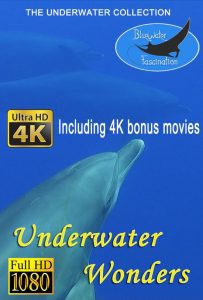 Underwater wonders is a relaxing underwater film showing the worlds most adorable underwater creatures. Follow gentle Manta rays gliding through the deep blue ocean, enjoy playful dolphins and colorful Clownfish.
Seahorses and turtles are featured as well in our underwater film and breathtaking coral reefs in beautiful colors. The movie is an hour long and comes in Full HD quality. We also included extra movies in 4K which show steady coral reefs
filmed for an extended time.
You can buy "Underwater Wonders" on our VOD page (Video On Demand) at Vimeo. Find more underwater films from our underwater collection.