Hello Andrea, Dirk and Klemens.
How did you 3 filmmakers meet each other and what are you doing at BlueWaterFascination?
Dirk: Andrea and I met Klemens in 2007 during a vacation in the Philippines at the Blue Abyss Dive Shop in Moalboal, Philippines. Klemens was already then a very professional underwater videographers and he inspired us by conversations and his underwater video films, so we very quickly got into underwater cinematography ourselves. Afterwards we spent a lot of time together underwater and on land working on our underwater video footage which all developed into a friendship between the 3 of us which is reflected in our film business.
Klemens: We produce relaxing underwater films which we offer for sale to our customers as download directly from our Vimeo "Video On Demand" channel. We also offer stock footage clips for sale.
How did you come up with the name Bluewaterfascination and the Manta logo?
Andrea: It was important that the name reflects our appreciation and enthusiasm for the underwater world as filmmakers and to show that there is something new to discover on every dive.
Inspired by an unforgettable Manta ray dive in Thailand it was clear to us that the Manta should be included in our company logo. As a template served an underwater photo of a Manta which we then edited on the computer and used the silhouette in our company logo.
Do you have a standard dive certification or did you receive special training to be able to achieve the quality of your underwater film scenes?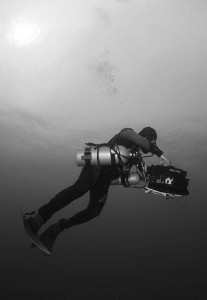 Andrea: In order to film sharks for a long time on exposed spots like in the Maldives at 30m, Nitrox is an absolute must have. So you can extend your bottom time considerably at this depth. In addition it is safer and reduces the risk of a decompression accident because you absorb less nitrogen.
Dirk: I started like most others with the classic Open Water dive training. While filming with an open circuit, the air bubbles mostly prevent close encounters with sharks and other pelagic animals or shoaling fish. For this reason, I changed two years ago to a closed circuit rebreather. With this device, you nearly become a part of the underwater world. Without making bubbles you can capture images which are impossible to get on an ordinary open circuit scuba regulator. For closed rebreather diving one must undergo the necessary training in order to operate the device accordingly.
Klemens: Before I used my first video camera underwater I had already worked for more than 10 years in the diving industry and have met many filmmakers. I choose the equipment depending on the shoot and the subject required. With these factors in mind I evaluate what is the best set up to use like Nitrox, double tanks, Side Mount …


Do you guys have a background in audiovisual or photography?
Dirk: No, our experience has always been acquired according by the motto "learning by doing". At the beginning I would be more than happy if I had captured a blurry fish on a shaky movie. With the time I understood more about the concept and aimed on getting better shots each time I used the camera.
Klemens: No, we pretty much learned everything by ourselves. It starts with the filming underwater and continues with editing the material on the computer. We are working on several Apple I-Mac computers and use Final Cut Pro editing software. As filmmakers you have to be able to do all the jobs involved in the production process.
Are you always filming with the same equipment?
Klemens: I had always been using Sony cameras and I still do today. The current model with which we produce our 4K UHD underwater films is the Sony FDR-AX100. As underwater housing I only use Gates Underwater Housings which have the great advantage that they are operated manually and have no electronics, which can often lead to problems in tropical temperatures.
Dirk: As filmmakers we aimed for a professional housing and I choose the Stingray G2 housing from Light & Motion which impressed us with its perfect workmanship and ease of use. As camera we also use a Sony camera HDR CX505VE which produces crisp HD quality footage. The lighting system is from Hartenberger in form of two mega compact lamps which completes our underwater set up.


Who are your customers?
Klemens: They come from very different business fields; our stock footage clips are bought from other filmmakers on YouTube who need to integrate underwater footage in their videos. Another field is major broadcasters including the BBC, National Geographic, Discovery Channel, to name but a few.
Andrea: We even had a Hollywood studio as customer, but they didn't allow us to publish their name as reference on our website.
Dirk: Apart from private use our underwater films are used in waiting rooms, mainly by dentists because of the relaxing atmosphere they create. Dive Shops buy these to introduce dive trips and there are business sectors like restaurants which use our underwater films as background entertainment.
What was your greatest success?
Klemens: Certainly the filming of the hunting Thresher shark on Pescador Island in Moalboal, the Philippines. This behavior has never been filmed before and our underwater scenes were the first ones of this kind to be broadcast by the BBC, National Geographic and Discovery Channel as well as in publications in the New York Times, the Guardian and many scientific journals.


What places are on your bucket list?
Andrea: South Africa, Protea Banks
Dirk: French Polynesia
Klemens: Galapagos Island
Are there still animals left which you want to film?
Klemens: Of course a lot, but at the moment the Hairy Frogfish is my first target.     Dirk: Yes, there are still many animals but at the moment I focus on a large Mola Mola (Sunfish).
Do you guys work on a new film at the moment and can we hope for more underwater films in the future?
Klemens: Yes, of course, the next film will be something with "critters" of which we still have plenty on our hard drives. On our last dive trip to Anilao in the Philippines we filmed some species which have been missing in our repertoire, including the Coconut Octopus, the flying gunnard, Boxer crab and a few other surprises.
Andrea: One can not only hope, but be sure that we filmmakers will produce many more underwater movies in the future.
What was your most beautiful diving encounter?
Andrea: The Manta experience on the island of Koh Bon in Thailand.
Klemens: The first whale shark I saw underwater was probably the most joyful moment underwater.
Dirk: The best diving experience were the dolphins at eye level in the Red Sea. An unforgettable experience.

Do you have tips for divers and filmmakers how to get better underwater videos or even produce professional films?
Dirk: In any case, you should already have a lot of diving experience. In particular, the natural operation of diving equipment and the perfect buoyancy. These are essentials that an underwater filmmaker must have. Many new divers already want to capture small videos underwater and bring themselves and the environment around them in danger. One should always control the situation around him and minimize the negative impact on the environment.
Klemens: As Dirk said already you have to be a pretty good and confident diver first before you start to operate a camera underwater. To produce good movies it needs a lot of practice and an understanding of the camera functions and the video software. Of course, one must also have professional equipment and the camera should have at least functions including shutter speed, iris, gain and white balance. In my opinion filmmakers can't make a professional underwater movie using an action cam.
Thank you for the interview.